There's no denying that Mauritians love to eat, considering the impressive variety and fusion of dishes on this relatively tiny island. The best thing about Mauritian cuisine is that it perfectly reflects the country's multicultural diversity. To sample the most delectable dishes, you can head over to the Capital of Port Louis which has rapidly turned into a foodie hub. Where's the best restaurant in Port Louis? Well, though it's hard to single out any dining establishment, we do have our own favourites. Check out some of the best restaurants in Port Louis below.
If you're a fan of beer, this is the place to be. Lambic Restaurant is an actual microbrewery where beer is produced on the spot and served up alongside mouthwatering Mauritian and European dishes. Prices are a bit on the expensive side, but well worth it, considering the high level of service and quality of the dishes. Lambic Restaurant's most sought-after dishes include their Angus steak, Chef's Salad that contains over 5 varieties of locally-grown lettuce, fish and chips, fish and mussels broth and venison steaks. In this restaurant, you can also choose between 43 types of teas, 46 whiskies and 130 imported beers.
Price: Between 1000 and 5000 MUR
Address: Lambic, 4 St Georges Street, Port Louis
Contact: 212 6011
Opening hours: 9.30am-9pm
With a casually chic Indian-themed decoration, Tandoori Express offers a haven of quietness in the bustling hub of Port Louis. This restaurant specializes in authentic South and North Indian cuisine, with some of the dishes featuring a classically Mauritian twist to them. Overlooking the harbor, Tandoori Express is also fairly affordable. Its specialties include Cheese and Garlic Naan, dry mutton curry, Goa-style fish curry and butter chicken.
Price: Between 500 and 3000 MUR
Address: Astrolab Building, Port Louis
Contact: 210 9898
Opening hours: Tuesday – Sunday: 10:30am-10.30pm
Specializing in Cantonese cuisine, First Restaurant offers a variety of mouthwatering dishes such as fried rice, Pecking Duck, fried and boiled noodles as well as a plethora of seafood in the likes of sweet and sour fish and crispy calamari rings. This restaurant's signature dish is its assorted dumpling basket. The atmosphere is extremely laid-back, with friendly patrons who will regale you with different tales from around the island as they sip on chilled local beers directly from the bottle.
Price: Between 100 and 400 MUR
Address: Corner of Royal & Coderie Street, Port Louis
Contact: 212 0685
Opening hours: 11.30am-2.30pm & 6.30-9.30pm Tue-Sun
La Bonne Marmite literally translates as "The Good Cooking Pot", and this restaurant carries its name to perfection. With a shabby-chic interior and a casual, convivial atmosphere, this restaurant has been described as an absolute pioneer in the heritage of multicultural cuisine. Divided into levels, it has a ground floor that features different types of hot dishes and salads that are ideal for lunch. The first floor offers a more refined dining experience with different types of seafood, poultry, meat and vegetarian dishes.
Price: Between 200 and 5000 MUR
Address: 18 Sir William Newton Street, Port Louis
Contact: 212 2403
Opening hours: Monday – Friday, 11.30am to 2.30pm
Related: What to eat in Mauritius
If you want to enjoy a multi-course gourmet meal in a highly elegant environment, you may wish to check out Grand Canton Restaurant. One of the oldest and most popular gourmet restaurants in Mauritius, Grand Canton specializes in Chinese and Hong Kong cuisine and offers both A la Carte and Set Menu services. Some of their more popular dishes include Whole Salted Chicken, Pekinese-style King Prawns, Steamed Fish, Sweet and Sour Pork and Sizzling Beef.
Price: Between 500 and 8000 MUR
Address: 47, Queen St, Port Louis
Contact: 217 3715
Opening hours: Monday – Sunday, excluding Tuesdays: 11.00am – 3.00pm, 6.00pm – 9.30pm
Overlooking the beautiful azure Indian Ocean, right opposite the harbor is Namasté Restaurant, an elegant establishment that specializes in different types of Indian Cuisine. With Mughlai (North Indian) dishes and pieces of meats, chicken and fish grilled directly in a Tandoor oven, this restaurant also hires chefs from Delhi for a more authentic Indian taste. One of the best restaurants in Mauritius, it also offers traditional Indian beverages such as special infusions and flavored yogurt drinks. Special entertainment nights are organized during the weekend, with an open buffet available to patrons.
Price: Between 500 and 6000 MUR
Address: L'Observatoire Building, Caudan Waterfront, Port Louis
Contact: 211 6710
Opening hours: Monday – Sunday: 11.30am to 3.30pm for lunch, 6.30pm to 10.30pm for dinner
Want to stay in North Mauritius? Check out our villas in North Mauritius!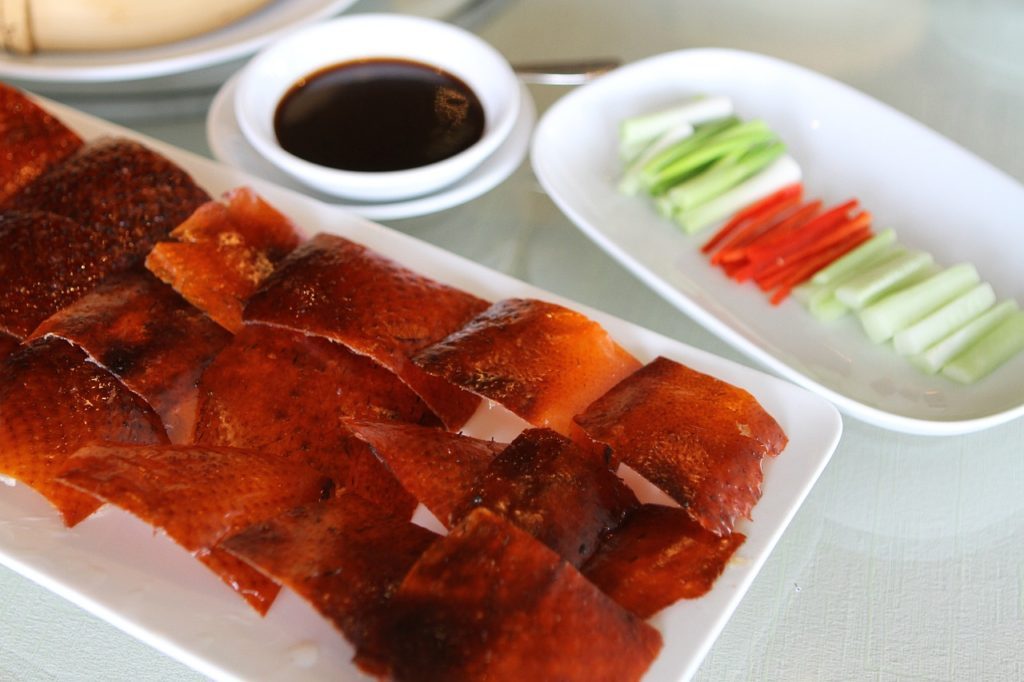 Found in the Port Louis Waterfront, Grand Ocean City has a casual chic vibe and is extremely popular among businessmen/women who are looking for a quick albeit delicious lunch. Specializing in Shanghai, Chinese and Mauritian specialties, this restaurant is also known for its Dim Sum trolleys that are pushed around the restaurant, guaranteeing a quick and delicious service. Alternatively, you can also choose from the set menu which is especially known for its Peking Duck.
Price: Between 1000 and 5000 MUR
Address: Caudan Waterfront, Port Louis
Contact: +230 211 8357
Opening hours: Monday – Sunday: 11.30am to 3.30pm for lunch, 6.30pm to 10.30pm for dinner
With large circular tables right on the terrace and wide colorful umbrellas to shelter you from the tropical sun, Sunset Cafe is ideal for anyone who wants to enjoy a light midday meal, al-fresco style. Nestled among coconut and palm trees, this restaurant faces the harbor and boasts a light, casual atmosphere. It is known for its colorful cocktails as well as an extended range of ice creams, sandwiches, pizzas and various types of salads.
Price: Between 100 and 2000 MUR
Address: Le Pavillon, Port Louis
Contact: (230) 211 9137
Opening hours: Monday – Sunday: 9am to 9pm
Facing the ocean, Arabia Gourmet Café is ideal for anyone who wants to enjoy authentic Arabian flavors, right in the capital of Mauritius! With hot cooper cups of Turkish coffee to accompany your lunch or dinner, this gourmet restaurant features unforgettable tastes through its wide selection of wraps, sandwiches as well as Arabian delicacies such as Baklava. Every Friday, the restaurant offers an open-buffet selection at a highly affordable price.
Price: Between 50 and 1000 MUR
Address: Caudan Waterfront, Port Louis
Contact: 212 4516
Opening hours: Monday-Sunday, 8am to 11pm
With an elegant atmosphere and a highly refined selection of dishes, Le Courtyard Restaurant offers open-air seating which will enable you to soak in plenty of sunshine as you tuck into various delicacies. This fine-dining restaurant offers various types of French and Mauritian dishes such as Foie Gras with a Blueberry reduction, Scallop Carpaccio and Avocado Salsa, among others. A sommelier is also on-site to help you find the best wine pairings to go with your dishes. It also presents unique desserts such as honey-ginger ice cream, chocolate lava cake and the likes.
Price: Between 700 and 8000 MUR
Address: Chevreau St, Port Louis
Contact: 210 0810
Opening hours: Monday-Friday, 8am to 10pm, reserve a table before you come. Saturday: by reservation only
An actual French colonial mansion found in the heart of Port Louis, Chateau Mon Desir blends a multi-course meal with a walk around the massive grounds prior or after your lunch. It specializes in typical Mauritian meals and offers an amazing view of the nearby mountain ranges as well as the 'Historical Ruins of Balaclava.' Offering A la Carte dining, this restaurant is found within an estate belonging to the 5-star Maritim Resort and Spa. It also features a typically British High Tea with a selection of hot beverages, juices and pastries.
Price: Between 1000 and 8000 MUR
Address: Turtle Bay, Balaclava, Port Louis
Contact: 204 1000
Opening hours: Tuesday to Saturday, 7pm to 10pm for dinner. Saturdays 3pm to 5.30pm for high tea. Sundays 11am to 2pm for Brunch.
---
See our villas in Mauritius. Inspected and selected by Villa-Finder.com.