Often referred to as a golfer's paradise, Mauritius offers plenty to accommodate this luxury sport. With stunning greenery and a glorious blue coastline, this island is home to some of the most scenic golf courses in the world. More importantly, with many golf resorts and courses available, you will never feel crowded and will be able to enjoy both the view and the game. Wondering where to head to for the best golf trip ever? Read our article to find out!
Tamarina Golf Spa & Boutique Hotel
With a striking view of some of Mauritius' most impressive mountain ranges, Tamarina Golf Spa & Boutique Hotel boasts an 18-hole, par 72 golf course designed by golf architect Rodney Wright. This golf course is famous because it harmoniously blends tranquillity with technical challenges. You will be able to enjoy nothing but the highest-quality services, layout and infrastructure. If you're a complete golf novice, rest assured that the hotel offers a qualified coach to guide you. Tamarina Golf Spa additionally includes a golf academy. You can find lessons by a PGA professional, equipment rental and more. There is also a restaurant, a bar, lockers, changing rooms, showers and a practice area. A snack bar is available in case you get hungry during practice.
Avalon Golf Estate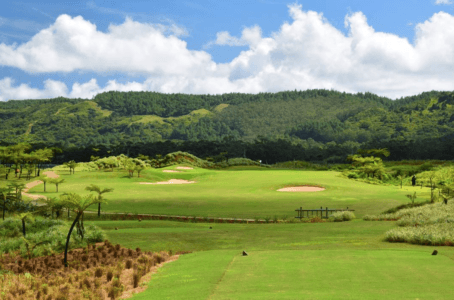 Surrounded by mountain ranges, rivers and tea plantations, the Avalon Gold Estate offers a magnificent golf experience. Best of all, it has additional amenities such as special brunches, swimming pools, restaurants and the likes. There is a team of coaches who will help you improve your swing and provide you with some of the most coveted tips in this industry.
This estate has a 280- metre practice facility with synthetic mats, tee boxes and five target greens. Avalon also features an 18-hole golf course that takes up around 275 acres of the estate's massive 544 estates. You will especially be fond of hole number 4, which offers a breathtaking scenery as well as a challenging game. Along with its courses, Avalon also has other types of leisure activities such as jogging, football, beach volleyball, cycling and tennis.
Mauritius Gymkhana Club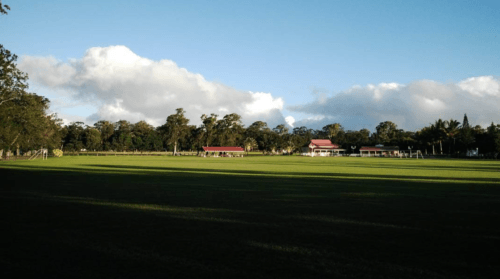 The Mauritius Gymkhana Club is in Vacoas, a peaceful town at the centre of the island. It is Mauritius' very first golf course, built in 1844. Incidentally enough, this town houses the Mauritian military academy, so seeing soldiers playing golf during their break is quite a common sight. More affordable than courses located in hotels, the Gymkhana Club has a par 68 course that measures approximately 5.6 kilometres. In spite of its relatively small size, this course does offer a challenging golf experience. You will be able to enjoy ten holes of par 4, six holes of par 3 as well as two holes of par 5. Hole 18 is by far the most scenic with palm trees and thick tulip plants that always seem to be in bloom.
This golf course is bordered by some rare Elm trees, some of which are over two centuries old. These trees are protected by the Mauritius Wildlife fund and offer some much-needed shade during your breaks.
Ile aux Cerfs Golf Club
A sun-kissed islet off the eastern coast of Mauritius, Ile aux Cerfs offers plenty of sea activities, but it is especially renowned for its spectacular 73 golf course that stretches across 7,056 yards. Designed by Bernhard Langer in 2013, this golf club comes with additional facilities such as shoe and club rentals, driving range, bag storage, locker rooms, golf carts, on-site refreshments, restaurants and clubhouses.
To reach this golf course, you need to drive to Toussrok Resort in the coastal village of Trou d'Eau Douce. There, you will be shuttled across the lagoon and onto the island. A day pass at the Ile aux Cerfs Golf Club costs between 5800 and 6500 MUR.
Hailed as one of the 10 golf courses in the African region, the Heritage Golf Club made international golfing history in 2015 when it hosted the very first tri-sanctioned golfing tournament between Asian, Sunshine and European Tours. With pristine fairways, the Heritage Golf Club stretches across a stretch of vivid green lawn that lies between the glistening lagoon and rolling mountain ranges. Ideal for both experienced and amateur golfers, this club offers a 9 hole Par 3 as well as an 18 hole course. Golfers can even choose between 5 different teeing options. Additional facilities include a golf shop, restaurant, clubhouse, golf academy and practice facilities.
A golfing session at the Heritage Golf Club can cost between 6000 and 8000 MUR. You can find the club in the fishing village of Bel Ombre, south of Mauritius.
Set in the idyllic village of Balaclava in the North Western coast of Mauritius, Maritim Golf Course was designed by renowned architect Graham Marsh. The 840-yard course overlooks the turquoise Indian Ocean. It is found in the grounds of the Maritim resort and is entirely free of charge for residents. Providing the perfect setting for different levels of experience, this course is open from 8am to 5pm daily. You can enjoy additional facilities such as private lessons with a certified Pro Instructor, Driving Net. This 9-hole Par 29 golf course measures 340 meters and even offers professional clubs on rental.
Want to stay in a villa with your family instead? Book a villa here!
---
See our villas in Mauritius. Inspected and selected by Villa-Finder.com.