Mauritius is known for its luxury activities and accommodations. If you're trying to watch your budget, however, rest assured that this island also offers a variety of mid-range options. Indeed, from hotels to villas, this island has plenty to offer when it comes to mid-range accommodations.
Mid-range villas in Mauritius
Villa Pereybere 2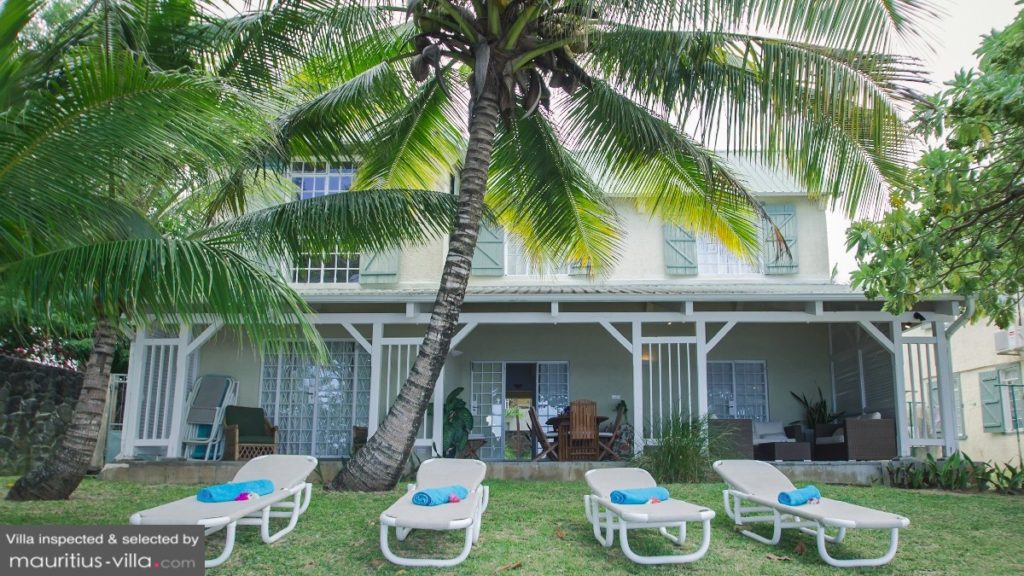 Featuring classic Mauritian architecture with views over the garden or the lagoon, Villa Pereybere 2 is self-catering and includes a variety of facilities to help you enjoy your holiday under the sun without breaking the bank. This villa has a spacious living room which is equipped with sofas and a television and offers a direct sea view. A dining room and a perfectly appointed kitchen serve to complete the living quarters. Four bedrooms come with king-sized beds and air conditioning units. This villa is in the North of the Island, in the sun-kissed region of Peyrebere. To reach there, you simply need to take the main motorway from Port-Louis and go through Grand Bay until you find the opening to Peyrebere.
Additional information:
Services: Daily housekeeping, In-house cook upon demand
Location: North of Mauritius, close to the tourist village of Grand Bay, 75km from the airport
Rates: From $362/night
Koki Bonheur Beachfront Villa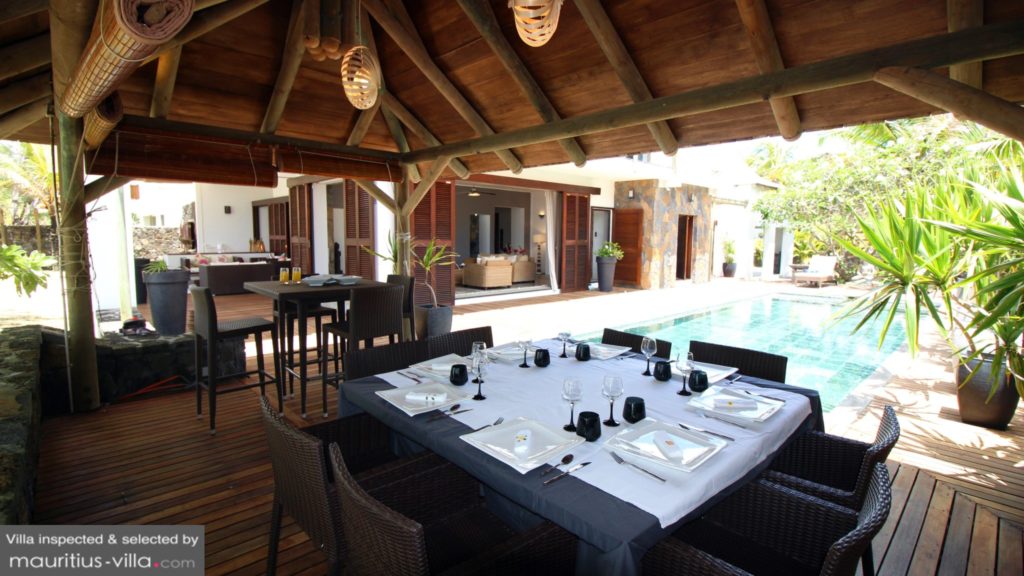 Koki Bonheur Beachfront Villa offers a highly-comfortable mid-range accommodation in Mauritius. This villa comes with its own housekeeping staff who will also be glad to assist you with maintenance and gardening works as well as cooking. Set on a private beach, the villa features a rustic, shabby-chic interior with a kitchen, dining room, living room and four bedrooms. Enjoy a dip in your own private 10-meter swimming pool when you don't feel like heading off to the beach, or simply lounge back on the pool beds spread out across the wooden deck area.
Not far from the villa is a whole array of pubs and clubs such as Buddha Bar, Les Enfants Terribles, Zanibar and Banana Beach Club.
Additional information:
Services: Daily maid, cook, gardening
Location: Poste Lafayette on the North-Eastern coast of Mauritius
Rates: From $347 per night
L'Ilot
With private verandas, open-plan pavilion and outdoor furniture, L'Ilot is an excellent choice for visitors who want to book a mid-range villa in Mauritius. Located on its own private islet just a few minutes away from the mainland, L'Ilot- which literally translates as Islet- is surrounded by an azure lagoon, promising intimacy and tranquility. Overlooking a crystal clear ocean that's ideal for both snorkeling and diving, this villa has two bedrooms, each with a king-sized bed and master bathroom. Egyptian linen and air-conditioning systems help complete this picture of tropical perfection. Additionally, this villa comes with its own bathing pool which can be accessed through a discreetly tucked stone staircase.
Additional information:
Services: Daily maid, breakfast, laundry, gardening
Location: Roches Noires on the North-Eastern coast of Mauritius
Rates: From $341 per night
Villa Canonniers 1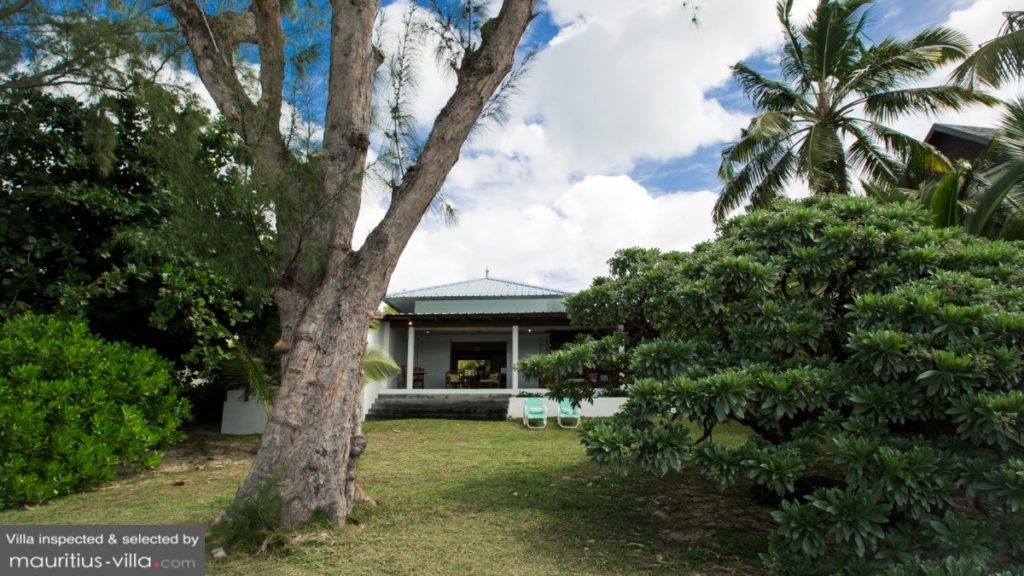 Found in the North of Mauritius, Villa Cannoniers 1 can sleep 6 people and comes with 3 bedrooms. Two bedrooms are fitted with twin beds. This charming villa is beautifully spaced out with a perfectly appointed kitchen, living room and dining room. As a guest of the villa, you'll also benefit from an easy access to a private beach, along with a large garden brimming with abundant foliage. There are sun loungers around the villa, should you want to work on your tan. One of the best mid-range villas in Mauritius, Villa Cannoniers 1 also comes with outdoor furnishings.
A short distance from the villa is Port Louis, the capital of Mauritius, along with Grand Bay which offers excellent deals in terms of food and shopping.
Additional information:
Services: Daily breakfast, chef, airport transfer (at an extra rate)
Location: Pointe aux Cannoniers, in the North
Rates: From $340 per night
Mid-range hotels in Mauritius
Zilwa Attitude
Zilwa Attitude is especially reputed for its rustic, shabby-chic atmosphere and homely feel. Located on the Northern coast of Mauritius, this hotel overlooks six small islands that surround the country. In fact, you can enjoy a splendid view of the famous Coin de Mire islet while lounging on the stretch of white sand in front of the hotel.  Additionally, you can easily take a taxi or a bus to Grand Baie, the main tourist hub in Mauritius.
Zilwa Hotel features typical Mauritian architecture with thatched roofs and a contemporary design. This four-star resort is ideal for anyone travelling on a mid-range budget and offers several types of facilities. There are three swimming pools surrounded by palm trees, a spa parlour, restaurants, tennis court and many other services.
Merville Beach
Located near the tourist village of Grand Baie, Merville Beach is famous for pristine beaches and crystal clear sea. This mid-range accommodation is within walking distance to nearby shopping centres and various types of shops. This hotel is also in close proximity to trendy nightclubs and restaurants. At Merville Beach, you can dine alfresco style in two main restaurants: Le Badamier and La Terasse. The resort has its own pizzeria, where you can enjoy Italian pizzas freshly baked in a wood-fired oven. Room facilities include tea, coffee makers, hairdryers, safe, minibar, free WiFi, television, telephone, air conditioning as well as sea-facing terraces or balconies.
Marlin Creek Residence
Found at the edge of a river on the West coast of Mauritius island, Marlin Creek Residence is a mid-range group of bungalows and studios that will ensure your comfort without you having to spend too much. Not far from the island's most popular surf spots, this residence additionally offers relaxing activities like darts, mountain biking and bocce ball. Its bungalows consist of three bedrooms, living room, bathroom, dining room, television, backyard, outdoor grill as well as a veranda where you just lie back and relax. For a more budget-friendly and smaller option, you can opt for a room instead of a whole bungalow. The yard is equipped with a large swimming pool and all the rooms are fitted with coffee and tea making facilities.
---
See our villas in Mauritius. Inspected and selected by Villa-Finder.com