A tropical island found in the Indian Ocean, Mauritius is a sun-kissed island surrounded by gloriously crystalline waters. It is also reputed for its wide range of activities and scenic attractions. From picturesque beaches to the charming islets, you will definitely not run out of points-of-interest to visit. Check out must-see attractions in Mauritius below.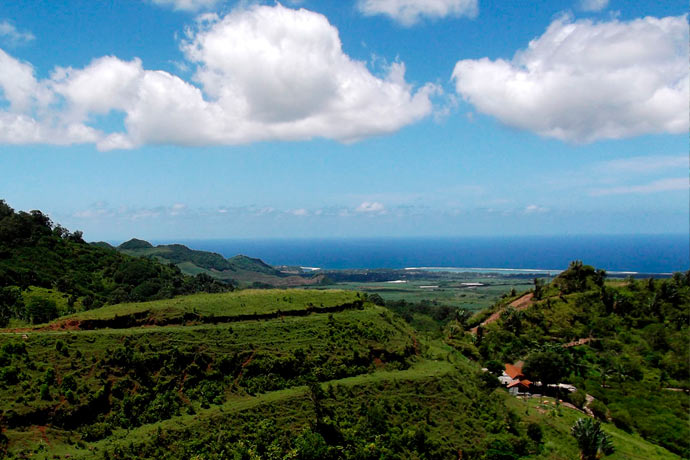 Image credit: ile-maurice.fr
Home to the world-famous 23-colored earth, La Vallee des Couleurs Nature Park will help you discover the natural Mauritian wildlife and beauty. Indeed, you will be enthralled by the plot of 23-colored earth that was first discovered in July 1998. This attraction is also enhanced by an extended variety of indigenous flora and fauna, as well as a plethora of landscapes such as crater-lakes, craters, valleys, mountains and plateaus.
You can check out the numerous species of rare birds such as the famous 'Cateaux Vert', 'Paille-en-Queue', Pink Pigeon as well as various types of fish, stags, monkeys and tortoises. Children can also bottle feed baby animals like lambs, baby goats and the likes. While boasting a tranquil atmosphere, La Vallee des Couleurs Nature Park offers thrilling activities such as zip lining. If you get hungry, you can always check into the on-site restaurant. There, you can find everything from pizzas to local delicacies.
Credit: sandy marie
Ile aux Cerfs is a tiny islet found on the east south coast of Mauritius. Every day small boats and catamarans depart from every corner of Mauritius to take you to this scenic place. You can just lounge in the sun or enjoy activities such as parasailing and water cycling. If you want to spend the night, Ile aux Cerfs has one of the most luxurious hotels in Mauritius. Most tour boats offer BBQ lunches that include wine, beer, cocktails, local rums, mineral water, soft drinks, salad, lobsters, chicken and fish.
On the way to Ile aux Cerfs, the boat can also take you to see the island's famous Grand River South East waterfalls. You will undoubtedly love its majestic beauty. Because of its crystal clear lagoons, Ile aux Cerfs is the ideal place for snorkelling as well as scuba diving.
Credit: MZPlus
Not far from the picturesque beach of Flic en Flac, Casela Nature Park is a wildlife reserve that houses an extensive number of animals. Unlike a traditional zoo, Casela Nature Park does not exploit its animals but works tirelessly for their conservation and protection. This park is especially known for its lion interaction adventures. You will be able to engage in different types of activities with the lions, such as walking with them or a sheltered safari through the lion reserve. On occasions when lions give birth, visitors can spend a few minutes with the cubs as well. These activities are also available for lions and cheetahs.
Animal lovers can hand-feed various types of animals and birds such as Lorikeet and Pygmy Hippos. A petting farm is also included, where you can bottle-feed different animal species.
If you want a bird's eye view of the Western coast of Mauritius, this is the place to go. A highly prized attraction in Mauritius, the Black River Gorges National Park is found in an area of the island that's still untainted by modern civilisation. It gives you the perfect chance to immerse yourself in the world-famous Mauritian wilderness. You can either stay at the top of the gorges to admire the breathtaking view or unleash your daring side as you descend down the valley. As you explore the network of hiking paths, you might even be lucky enough to come across the hidden waterfall.
Getting there: Black River is found halfway between Flic en Flac and Le Morne so you only have to take the straight road that links those two villages. Make a left turn as soon you enter Tamarin village and follow the road sign that says "Black River Gorges".
Price Range: Access to the park is free, but you can rent a guide for about 1,200 to 2,000 MUR if you want to climb down the valley
Opening Hours: 7 am to 5 pm, Monday to Friday, 9 am to 5 pm Saturday to Sunday
Remember that famous underwater waterfall optical illusion off the coast of Mauritius that went viral? Well, the only way to see this glorious illusion for yourself is to climb up to the very summit of Le Morne Brabant Mountain. A note of caution though: while it is one of the most scenic attractions in Mauritius and well-worth the effort, this is one hike that requires a moderate to strong fitness level:
Hiking duration: 3-4 hours
Highest point: 1595 ft
Total elevation: 1747 ft
Getting there: starting from the centre of the island at Quatre-Bornes, take the link road to Flic en Flac and go straight, past Casela Nature Reserve, past the Black River salt pans. Drive all the way to the South-Western part of the island. Stay on the A3 main road for the first part of your trip and take the B9 as soon as you see the opening. It will lead you directly to the foot of the mountain.
Price Range: Free. However, several companies offer full or half-day hiking adventures and these can range from 2000 to 4000 MUR per person.
Opening hours: 7 am to 4 pm in winter (April-October), Monday-Saturday / 6 am to 5 pm in summer (November- March), Monday to Saturday
Known as the highest waterfall of Mauritius, Chamarel tumbles down a spectacular 85 meters drop, framed against a breathtaking background of mountain ranges and forests. Home to a small population of wild and friendly monkeys (keep your possessions close, they do like cell phones!), this waterfall was formed by the St Denis River. The best viewpoint to this waterfall is through the Black River Gorges, but smaller unmarked entrances are also accessible, either from the back or the side of the waterfall.
It's also possible to feast your eyes on this amazing natural wonder through another viewpoint that has been set up on the Chamarel Seven Colored Earth Reserve. Do remember to bring your swimwear though: the lure of the calm pond at the bottom of the waterfall can be quite difficult to resist.
Getting there: simply take the B103 Plain Champagne Road and take a left turn as soon you see the sign that reads "Welcome to the village of Chamarel".
Price Range: Free
Opening hours: 10 am to 5 pm every day, excluding Wednesdays.
This small islet is found just off the coast of Blue Bay, a sunny village in the South East of Mauritius. A nature reserve that's home to some of the rarest bird species in the world, Ile aux Aigrettes is accessible by fishing, glass bottom or catamaran boats. On this islet, you will also be able to explore rare varieties of tortoises, sea turtles as well as a variety of exotic plants and flowers.
Getting there: Several companies offer hourly, half-day or full day trips to the islet. You can take a boat shuttle from just about any corner of Mauritius, but the quickest way to get there is to get a boat from Blue Bay. Some companies even offer sunset cruises towards Ile aux Aigrettes onboard catamarans. These also often feature an open bar as well as a variety of Mauritian snacks. For a more thrilling experience, you can even book an overnight catamaran cruise that will drop anchor in front of Ile aux Aigrettes for the night.
Price Range: Between 500 and 2000 MUR, depending on the type of boat you book
Opening hours: Accessible 24/24
If you want to stay near Blue Bay, check out Veloutier Blanc Beachfront Villa, Eolia Beachfront Villa and Villa Frangipane.
There's no denying that Mauritians love their local booze- and for good reason. Refreshing, with the perfect balance of tanginess and just a tiny hint of cane sweetness in the aftertaste, Mauritian rum is famous all over the world. For this reason, the Rhumerie de Chamarel – the island's largest distillery – is one of the major attractions in the country. Set on a generous hillside plantation, this distillery boasts an eco-friendly production of rum and is open to the public. Best of all, they even offer special rum tasting sessions open to anyone aged 18+ years.
Getting there: You need to take the B103 Plaine Champagne Road if you're departing from the centre of the island. From Quatre-Bornes, drive south-west towards Georges Guibert and take a left turn into Avenue John Kennedy. Following that, take the B64 which will take you across a scenic drive next to the Marie Water Treatment Plant. Continue on the B102, take a right turn and this will take you on the B103 Plaine Champagne Road to the distillery.
Price Range: Adults 350 MUR, children 175 MUR
Opening hours: Monday-Saturday, 9.30 am to 5.30 pm
Also known as SSR Botanical Garden, this park was established nearly 300 years ago when Mauritius was still under the French rule. Nowadays, it serves as a horticultural research centre and home to several animals such as deer, giant tortoises and the like. Located in the North of Mauritius, this garden offers ample opportunities to enjoy a long and refreshing nature walk before settling on the grass for a sun-filled picnic. Be sure to check out the giant floating lilies that are unique to the island when you reach the massive pond that helped make this garden famous around the world.
Getting there: Pamplemousse Botanical Garden is about a 15-minute drive from Port Louis. Simply drive across the M2 road until you find a road sign on the right with "SSR Botanical Gardens" written upon it.
Price Range: 200 MUR
Opening hours: Monday to Sunday, 8.30am to 5.30pm
With a diverse marine eco system, the Blue Bay Marine Park is found in the South East of Mauritius. Fringed by several luxury hotels, this marine park is found in the middle of the ocean and is easily accessible by speed, fishing and glass bottom boat. Above the marine park, there is a small 4.22 hectares island known as 'Ile des Deux Cocos', where you can sit back and relax after an exhilarating Scuba dive.
Getting there: If you're going to Blue Bay Marine Park from the north, it's a good one-hour drive on the main M1 road. If you're leaving from the airport, it's just 10 minutes away. In fact, the easiest way to visit this park is to leave from Blue Lagoon beach hotel: they offer paid shuttles to both guests and non-guests.
Price range: Between 200-500 MUR per trip on a glass bottom boat
Opening hours: Depends on the boat company
Another one of Mauritius' many natural wonders, Gris Gris is a beach and viewpoint that's located in the Southern part of the island. Unlike Mauritius' other pristine beaches, however, this area is not for swimming because of the turbulent waves and massive boulders. In spite of this, however, Gris Gris boasts the type of pristine scenery which you can only find in the pages of a travel magazine.
This area also attracts visitors because of the famous "La Roche qui Pleure", which translates as The Weeping Rock. This natural wonder shows a large, flat rock that lies right at the edge of the water. Every time a wave crashes over it, two long streams of water trickle down the "face." According to local legend, this face represents a mother's mourning after she lost her son to those treacherous waters.
Getting there: Gris Gris is found in the village of Souillac and getting there can be a tad complicated if you're unfamiliar with the region. The easiest way for you to get there from the centre of the island is to take the M2 and then turn on the A9 as soon as you see the opening. This will take you to Souillac. Look for Chez Rosy restaurant – or simply ask for directions to there since it is one of the most popular eateries on the island. Take a left turn after the restaurant and you're there!
Price range: Free
Opening hours: 24/24
Not far from Gris Gris is found another natural attraction known as Le Souffleur. Wild and untamed, Le Souffleur boasts majestic cliffs and grottos where a geyser can sprout water up to 20m high during rougher weathers. This place is also known for its impressive rock formations, one of which joins two stretches of land together in an impressively curved, solid natural bridge.
To reach there, however, you'll undoubtedly need a 4WD since the terrain can be quite rocky but the drive is an adventure in itself. Because it is found on private property, you do need to ask permission to cross the Savannah sugar estate in l'Escalier village. Take the winding road and drive for around 10 to 15 minutes until you reach the edge of the cliff.
Price range: Free
Opening hours: Being a natural formation, the Souffleur has no opening hours but you'll need to cross a private property which is open Monday to Saturday between 9 am and 5 pm
Protected by the Mauritian Wildlife Foundation, the Frederica Nature Reserve offers so much more than a mere natural park. Besides rare flora and fauna, this park also offers a variety of activities that will thrill both children and adults alike. From quad biking across the generous acres of land to trekking, Segway rides or even a special discovery and enrichment tour designed specifically for children, this nature reserve is the perfect place to spend a day under the sun. It even offers special sunset safaris where you will be able to zoom through the forest and watch as wild animals emerge from between the trees for their nightly strolls. This is capped by snacks and hot chocolate which is enjoyed around a campfire, complete with local songs and music.
Getting there: The nature reserve is found on Domaine de Bel Ombre, which is partially owned by Heritage Resorts. If you stay at the hotel, you can benefit from a free shuttle that will take you to the reserve. Alternatively, nonguests can take the B9 Coastal Road and pass through the Bel Ombre estate before reaching Frederica.
Price range: Between 1000 and 7000 MUR, depending on the activity that you want to do
Opening hours: Monday to Saturday, 8 am to 8 pm.
Perfect for an early morning or late evening stroll, Rochester Falls offers quite a spectacular sight. Nestled between St Aubin and Souillac, this spectacular waterfall features an impressive lava cliff that underwent centuries of erosion that gave it its distinctive rectangular block-like shape. With a gloriously gentle gurgling noise, this waterfall tumbles down 10 meters into the Savanne River. Perfect for a picnic, Rochester Falls receives quite a lot of visitors over the weekend. If you want some peace and quiet, it's best to visit it during the week.
Getting there: Reaching there is quite easy since it's one of the most famous waterfalls in Mauritius. Simply stick to the main road that goes through Surinam village and turn left when you see the hand written road sign that reads "Rochester Falls". This will take you through Chamouny Road, at the end of which you'll see a makeshift parking lot.
Price range: Free
Opening hours: 24/24
Established in 1985, La Vanille Crocodile Park is home to hundreds of alligators, crocodiles and giant tortoises, as well as rare and endemic trees. This park is set in the middle of a rainforest brimming with freshwater springs that contain different types of fish and prawns. You can even take a leisurely stroll through the giant bamboo-lined paths where you might also spot palm and banana trees. To recharge your batteries after an exhilarating trip, check out the restaurant which is famous for its crocodile steaks!
Getting there: There's no denying that it's quite a long drive to the park, especially if you're leaving from the North or the centre of Mauritius. However, this region is known for its scenic roads and impressive sights so rest assured that you'll enjoy the ride. From the east of Mauritius, take the main road that goes through Trois Boutiques and L'Escalier villages. You'll see a road sign that will indicate where to turn for another straight path to the park. Bear in mind that the park has separate exit and entry roads. If you miss your opening, you'll need to make a U-turn to return to it.
Price range: 490 MUR for tourists, 250 MUR for children
Opening hours: Monday to Sunday, 8.30 am to 5 pm
---
See our villas in Mauritius. Inspected and selected by Villa-Finder.com