While travelling with the whole family can be one of the best experiences, there's no denying that it can be somewhat hectic to try and keep the kids entertained. In fact, if you have small children, it can be a challenge to even book into just about any resort for fear that your kids will start creating havoc out of sheer boredom. After all, we all know that not every resort caters to child-friendly entertainment and activities. Luckily enough, you'll find some of the best family villas in Mauritius. These villas are designed in such a way so as to provide entertainment and space to keep both parents and children occupied. Check out the best family villas in Mauritius below!
Tucked away in the sunny coastal village of Trou aux Biches, Villa Stylia Garden features plenty of greenery and a large garden which your kids will be able to explore to their heart's content. This villa is conceived in such a way so as to accommodate a maximum of six people.
What makes it one of the best villas in Mauritius is its private access to the beach. After an afternoon of roaming across Mauritius' sunny streets, parents and children alike will be able to cross their very own private path that will lead them directly to the soft white beach. Your children will undoubtedly love the fact that they'll be able to splash into the ocean on a daily basis. There is even a swimming pool and a barbecue corner in the villa.
Why kids love Villa Stylia Garden:
Plenty of green space for them to run around, explore and play as much as they want
Private swimming pool
Two bunk beds in one bedroom which allows them to have friends over for a fun pajama party!
Why adults love Villa Stylia Garden:
Direct entrance to the beach where they can enjoy the sun
Quality services offered by the villa, such as in-house mobile phone to stay in touch with the on-site staff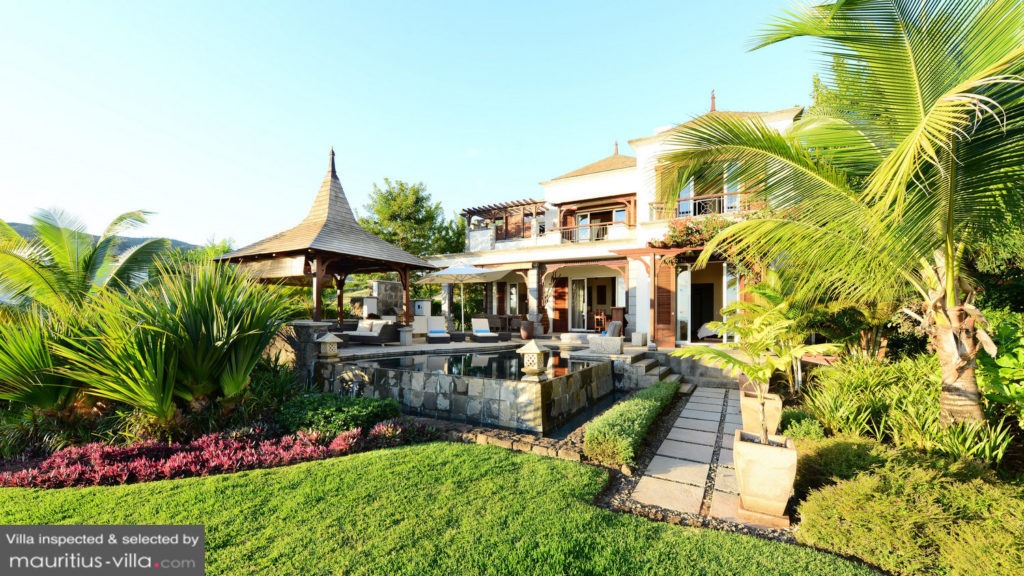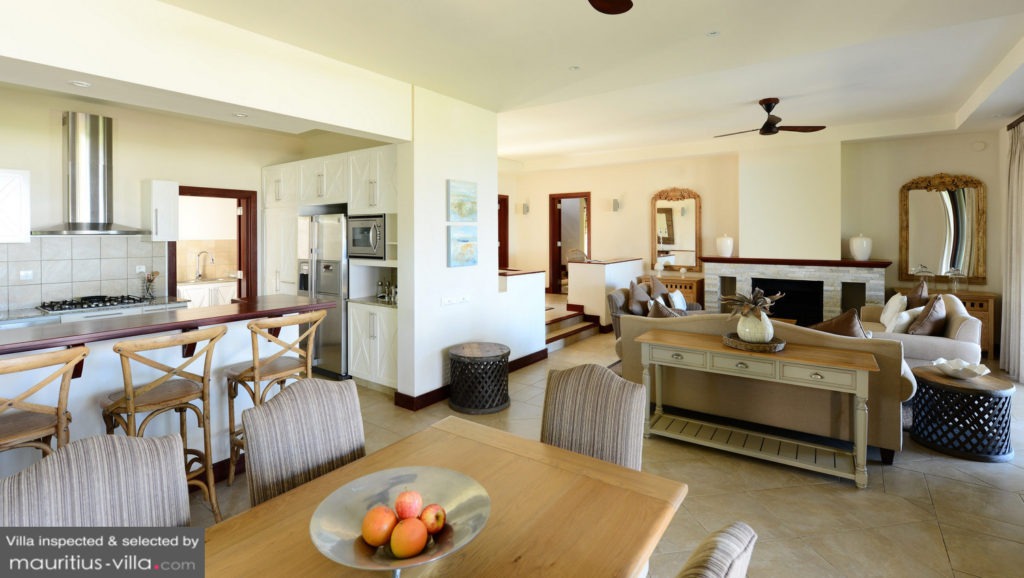 Heritage The Villa 2 has long been hailed as one of the best family villas in Mauritius. Of course, this should come as no surprise once you consider the vast architecture and layout of the villa. Set in the complex of Heritage The Villas, which also offers a choice of twelve restaurants, this villa comes with two bedrooms overlooking the green garden outside.
Kids will undoubtedly have the time of their lives splashing away in the massive infinity pool outside. As a bonus, the tropical garden is quite large, creating an entirely safe haven for them to play and run around. And because food always tastes better outdoors, you won't have any trouble getting them to eat once you fire up the barbecue grill on the patio!
Why kids love Heritage The Villa 2:
Enjoying a fun swim in the private pool
Proximity to the beach
Plenty of space for them to play outside in the sun
Why adults love Heritage The Villa 2:
Access to a nearby golf club
12 restaurants set right on the complex of Heritage The Villas
A homely atmosphere punctuated by different services such as housekeeping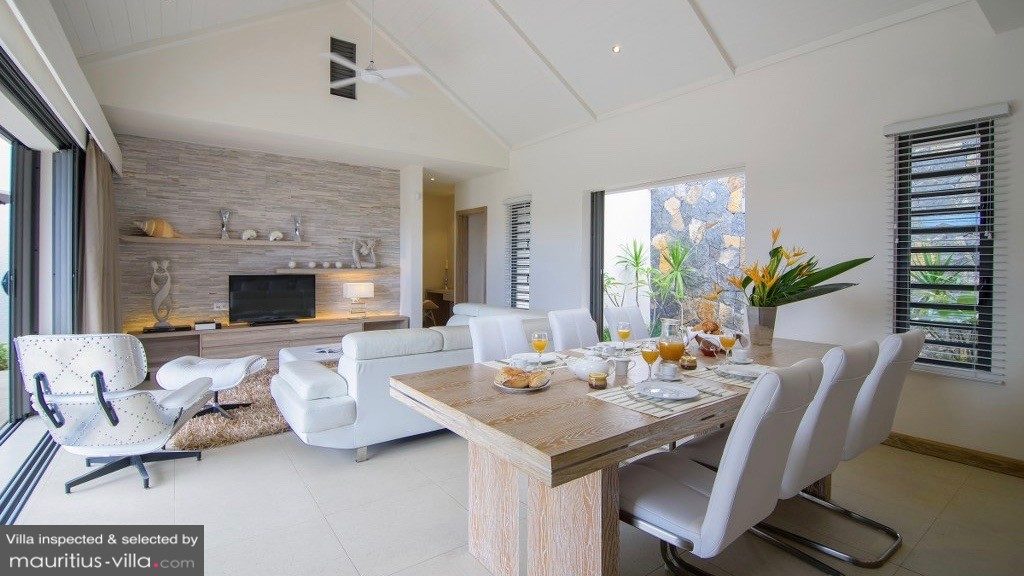 In the vibrant tourist capital of Grand Baie is found Caravelle Villa, a 3-bedroom establishment which delights adults and kids alike. Charming, relaxing and with plenty of space to boast, this villa promises an exhilarating vacation on paradise island for the entire family!
Staying at Caravelle Villa actually gives you access to a private beach club, where both you and the children can enjoy a host of entertaining activities. With world-class services, this villa even comes with a private swimming pool in which the children can merrily splash about and give full rein to their bubbling energy. Because it's not far from some of the best beaches in Mauritius, you will be able to swim in the Indian Ocean as often as you'd like to! To complete this charming image of fun and relaxation in the sun, there's even a gazebo in the garden.
Why kids love Caravelle Villa:
Large swimming pool
Private beach club with different amenities
Plenty of space for them to run around and play in the tropical garden
Close to the beach
Why adults love Caravelle Villa:
Different services offered by the villa
Private and fully secure parking
Sunbeds and barbecue facilities
Related: Best kid-friendly restaurants in Mauritius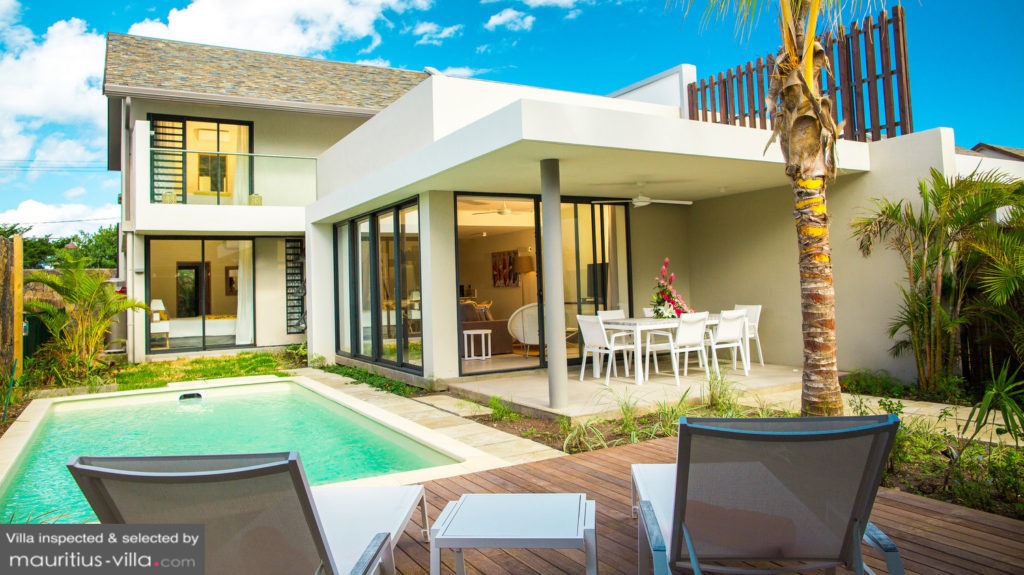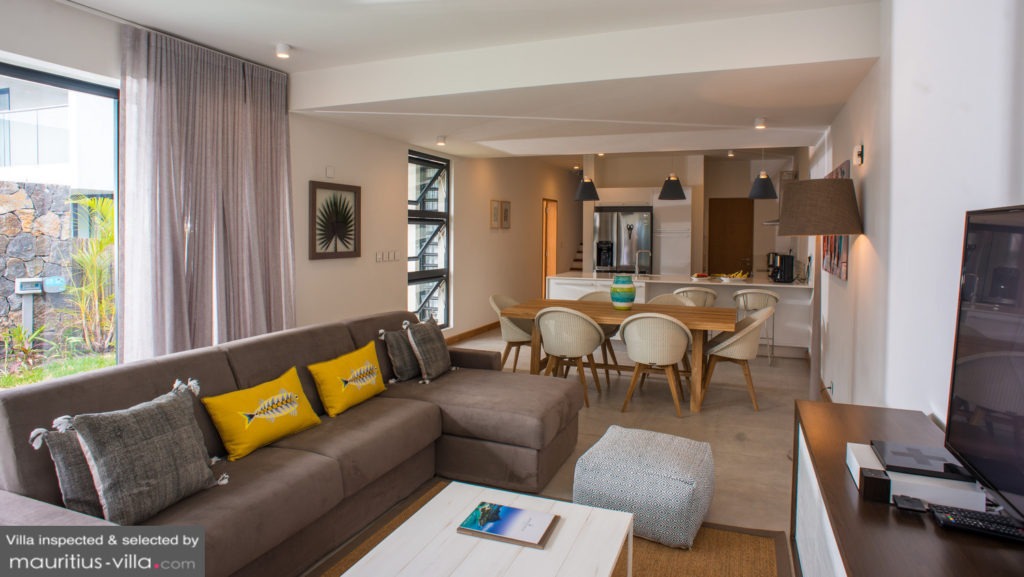 Marguery Villa Superior is found in the west of the island, more precisely in Black River where it's always sunny – yes, even in the winter! The perfect accommodation for the family, this is one villa that never fails to entertain you and the kids. The generously-sized bedrooms overlook the swimming pool and garden, and thanks to the sliding glass windows, you can be sure to wake up to glorious sunshine streaming into the room every morning!
If you're worried that your kids won't have enough space to run around, fret not. This villa is set on a large parcel of green land where they'll be able to play outside without getting bored. And of course, they can always cool off in the swimming pool! There's even a Kid's Club in the complex to keep them entertained.
Why kids love Marguery Villa Superior:
The generously-sized swimming pool
An entertaining Kid's Club with plenty of fun activities for children
A Food Corner
Why adults love Marguery Villa Superior:
Different services, including a chef (for an extra fee)
Spacious gazebo with barbecue and grilling facilities
Proximity to Le Morne Beach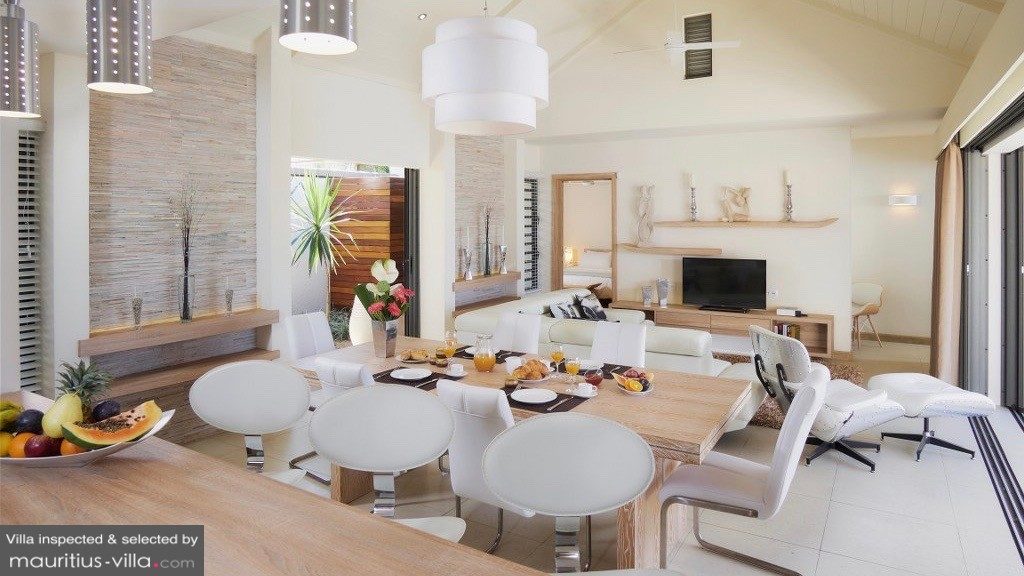 Found not far from the wonderful beaches of Grand Baie, in the very north of the island, Flibuste Villa offers the perfect retreat to families travelling with kids. In the villa, there's a large garden that can be used for sunbathing or for your children to run around in a haze of vacation-fueled excitement. Adults, on the other hand, will most certainly enjoy the tropical sun gazebo and the continental breakfast which will energize you before starting yet another glorious day on the island.
Why kids love Flibuste Villa:
The private pool
The large garden
The entertaining babysitters
Why adults love Flibuste Villa:
Daily continental breakfast hamper
Various services such as WiFi, shuttle, airport transfer and car rental
Housekeeping services
Only a stone's throw from the silky beach of Flic en Flac, Villa Wolmar is large enough to sleep six people. With three bedrooms, this is one of the best family villas in Mauritius for families. Barbecue facilities have been set up to help you enjoy grilling parties with your friends and kids. The beach of Flic en Flac is also known for its pristine waters, which are ideal for snorkelling and swimming alike. Kids can enjoy the swimming pool for as long as they want since it's entirely private. You won't even need to worry about the kids making too much noise or bustling around since the villa is entirely your own.
What kids will love
Private swimming pool that they won't need to share with anyone else
Hot dogs and burgers thanks to the barbecue facilities
Fun and entertaining services
What adults will love
Proximity to the beach of Flic en Flac
Luxury services such as a driver, upon request and for an added fee
Now that you have your accommodation settled, check out our article about family-friendly activities in Mauritius
---
See our villas in Mauritius. Inspected and selected by Villa-Finder.com.