If you're looking for an amazing beachfront villa in Mauritius, you won't need to search far and wide. Surrounded by the ocean, this idyllic island offers several beachfront establishments where you will be treated to your very own stretch of silky-soft white sand. Get ready for a stay with spectacular views, a private setting and utmost tranquillity. Here are nine best beachfront villas in Mauritius.
Villa Alizee looks like something out of a fairytale: an enchanting wooden house perched in front of the sparkling turquoise ocean. The villa offers one of the best views in Mauritius. While it's the ideal retreat that feels as though you're cut off from civilization, the vibrant village of Mahebourg is just fifteen minutes away by car. There, you can visit an array of museums, markets and cafes.
Brimming with abundant cosiness, this villa offers four perfectly-appointed bedrooms. The spa-like master bathroom even boasts a deep soaking Jacuzzi tub where you can relax and unwind. From the villa, you can go down the wooden steps that lead directly onto the sandy white beach of Pointe d'Esny. Swaying palm trees that dot the beach only serve to enhance that picture of perfection.
Don't even worry about cleaning up the villa since your maid will be there to keep everything clean and spotless for you.
Around Villa Alizee
Snorkel in the crystalline waters and take in the wondrous underwater sights as you explore one of the best lagoons in Mauritius. And if you'd like to get in soak in the local vibe, there's no better way to do it than to head over to Mahebourg. There are plenty of family-owned restaurants for you to try a traditional Mauritian meal.
Key features
Excellent snorkelling conditions in front of the villa | Jacuzzi tub | Vibrant green garden with barbecue facilities
Prices start at US$360 (low season), US$647(high season).
Check out more villas in Pointe d'Esny here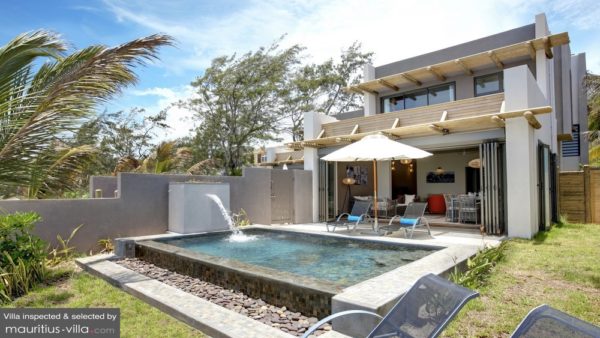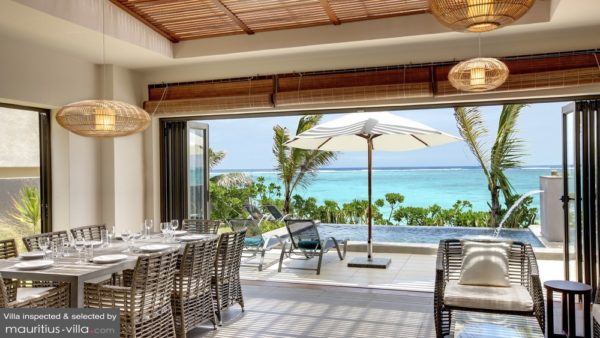 This three-bedroom haven overlooks the glistening turquoise bay of Trou d'Eau Douce. Airy and elegant, Villa Stylia has all the homely comforts that you could possibly imagine. This villa offers a spacious tropical garden and even a swimming pool, complete with loungers and pool umbrellas. In keeping with the pronounced tropical spirit, Villa Stylia Beach boasts barbecue facilities and outdoor seating so you can tuck into dinner while listening to the soft sloshing of the waves against the shore.
Don't worry about having to prepare breakfasts every morning: Villa Stylia Beach can arrange daily breakfast delivery service for you. And of course, daily housekeeping is included at the villa!
Around Villa Stylia Beach
Enjoy delightful nautical activities such as deep-sea fishing, snorkelling and parasailing from the public beach of Trou aux Biches. There's even an excellent golf course less than 3km from the villa, where you can practice your swing while taking in plenty of that warm island sun.
Key features
Close to a diverse sports center that offers different types of activities | Direct access to a beautiful stretch of white sandy beach | Plenty of greenery for you to take in a distinct tropical vibe | Concierge services
Prices start at US$345 (low season), US$502 (high season), US$1,226 (peak season).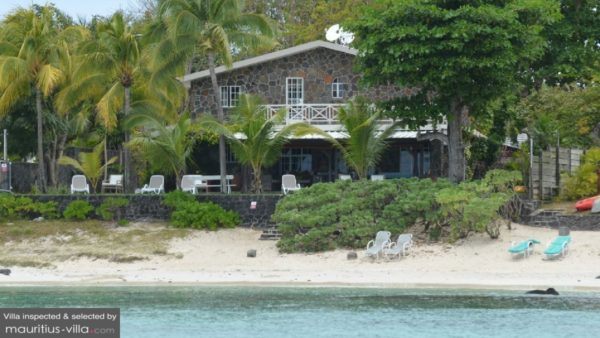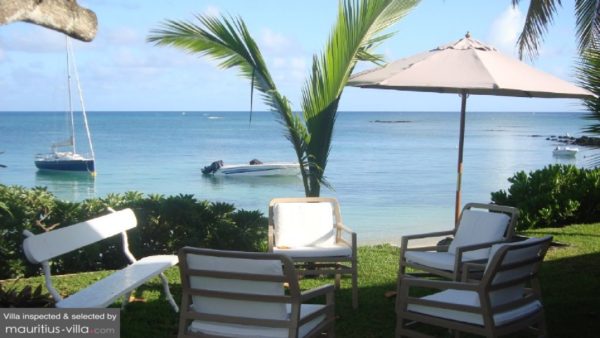 Reminiscent of charming French Parlors, this beauty lies nestled at the fringe of the Indian Ocean. You only need to take a few steps out of the villa before your toes brush against the silky soft sand. Offering a tranquil retreat in the midst of lush foliage, this villa is perfect for a beach holiday with friends and families. With a paradisiac setting that looks straight off a postcard, Villa Frenesie offers a total of three air-conditioned bedrooms to very comfortably accommodate up to six guests. In the morning, wake up to a glorious sunrise as you listen to the soft chirps of tropical birds before getting ready for yet another day in Mauritius!
Radiating with a general sense of well-being, Villa Frenesie also offers housekeeping services. So, all you have to do is lie back and enjoy your holiday to the fullest.
Around Villa Frenesie
Drive to the lively centre of Grand Baie which is known for being one of the best tourist spots in Mauritius. This is where you'll be able to shop to your heart's content, in markets, souvenir stores or high-end deluxe shops. If you're interested in architecture, you really can't miss a visit to the nearby Tamil Surya Oudaya Sangam Temple which is a Hindu temple known for its striking structural design.
Key features
Just a stone's throw from the vibrancy of Grand Baie Center | Easy access to the pristine public beach and its wonderfully warm waters | A beautifully furnished and airy interior to enhance your sense of relaxation and well-being
Prices start at US$409 (low season), US$373 (mid-high season), US$ 394 (high season), US$555 (peak season)
Check out more villas in North Mauritius here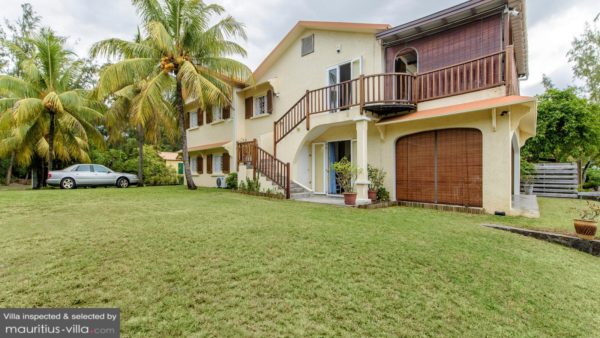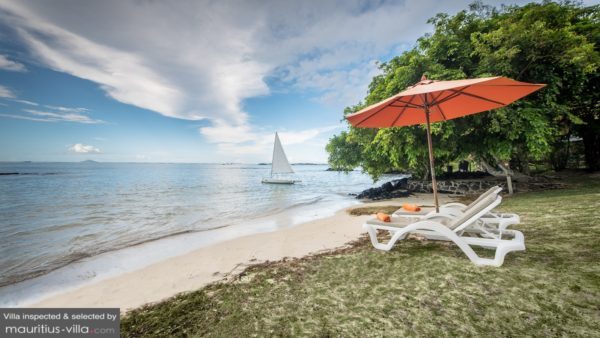 This is indeed one of the best beach villas in Mauritius. Featuring typical Mauritian architecture, Le Cocluchier Villa places you amidst swaying palm trees, at the very edge of one of the most scenic beaches in Roches Noires. This tranquil haven is split into two establishments, which you can rent together or separately. The beach is pristine and breathtakingly beautiful. In the afternoon, sit in the warm silky sand and inhale that distinctively salty sea breeze and watch the sun sink beneath the horizon. Such is the life at Le Cocluchier Villa.
There is a thick tropical garden with sun loungers, perfect for working on your tan. A fully-equipped kitchen and spacious living areas only serve to enhance the cosiness of the villa. With seven bedrooms and ample space for everyone, there's no denying that Le Cocluchier Villa is the perfect beach retreat for larger groups.
Around Le Cocluchier
The village of Roches Noires is, without doubt, one of the most picturesque beaches in Mauritius. Dotted by an array of volcanic rocks upon which you can stroll as you watch the waves, this beach offers a prime location for snorkelling and various other types of nautical activities. If you don't mind a short drive, you can also head over to the striking village of Grand Baie, which is particularly reputed for its vibrant nightlife.
Key features
The beach is right on your doorstep so you only have to cross a sandy stretch of land to enjoy a swim in the water| Not far from Grand Baie and its numerous nightclubs | Seven bedrooms to very comfortably sleep large families.
Prices start at US$222 (low season), US$ 310 (high season), US$397 (peak season). It's a steal!
Related: 15 Best restaurants in Mauritius You Don't Want to Miss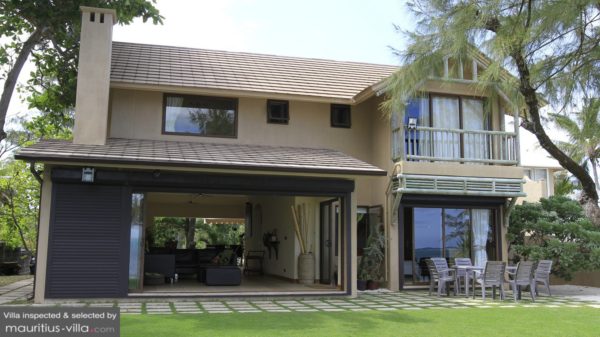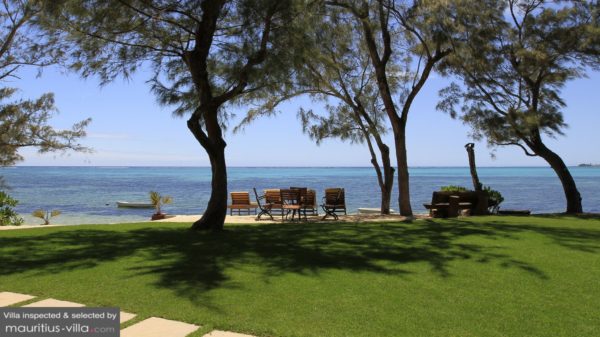 If you want to be immersed in the midst of nature, this villa is for you. Nestled in the peaceful village of Poste Lafayette with rugged landscape and bountiful vegetation, Fayette sur Mer Villa offers four sprawling bedrooms to accommodate eight guests. Facing the splendid Indian Ocean, this relaxing villa even comes with its private swimming pool. Enjoy the tropical weather to the maximum by relaxing in the expansive gardens or simply relaxing on the stretch of sand that's right in front of the villa.
Designed to feel like your home away from home, Fayette sur Mer Villa comes with housekeeping service. There's even a gardener to ensure that the grounds are as pristine as possible. The perfect beachfront holiday awaits you in Mauritius!
Around Fayette sur Mer Villa
Take a scenic drive from Fayette sur Mer Villa towards the picturesque Bras d'Eau National Park, one of the three major parks on the island. This particular park is famed for its waters of vivid blue and gently cascading waterfall where you can actually jump off from. The idyllic village of Post Lafayette is also ideal for a lazy afternoon stroll as you enjoy the island's wonderful sights.
Key features
A short drive away from the scenic nature park of Bras D'Eau where you can frolic in the glistening water at the foot of a waterfall| Direct access to the beach which is found right on your doorstep | Plenty of lush greenery in the garden to create a pronounced sense of tranquillity and relaxation.
Prices start at US$450 (low season), US$555 (mid-high season), US$ 613 (high season), US$876 (peak season).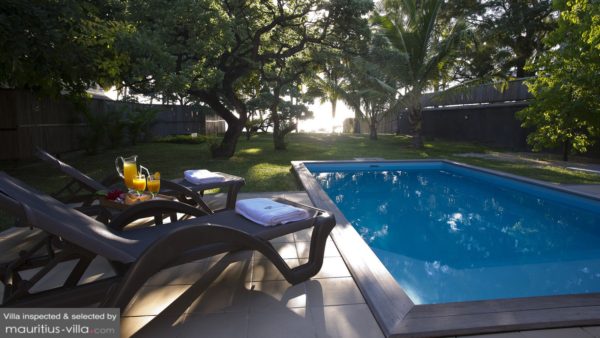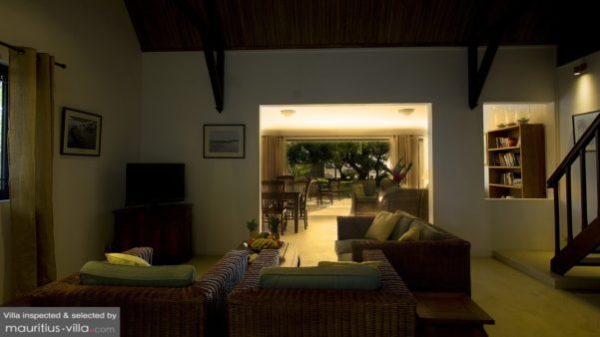 With a private saltwater swimming pool that overlooks the deep blue ocean, Villa Belle Vue 2 is a two-bedroom home that offers an easy access to one of the most picturesque beaches in Trou aux Biches. Radiating with a sense of serenity, this fine establishment actually places the beach on your doorstep. All you literally have to do is walk a few steps before you can dig your toes in the warm white sand.
This self-catering villa has everything you could possibly dream of to enjoy an idyllic holiday in Mauritius. There's even a convenient barbecue area where you can grill up a storm and enjoy your meal on the patio overlooking the tropical garden and the sea.
Around Villa Belle Vue 2
Enjoy a relaxing stroll from your villa towards the pristine public beach of Trou aux Biches where you can bask in the sun or indulge in a variety of nautical activities such as deep-sea diving, water skiing, deep sea fishing, sailing, snorkelling and other marine excursions. For a livelier atmosphere, drive the short distance to Grand Baie where you can try your luck at the slots or dance in one of their ocean-facing nightclubs until the sun comes up.
Key features
A saltwater infinity pool that overlooks the stretch of beach in front of your villa| Just a short drive away from Grand Baie and its many casinos, nightclubs and restaurants. | A large tropical garden with plenty of lush foliage and tropical plants.
Prices start at US$344 (low season), US$ 358 (high season), US$526 (peak season).
Related: 10 things not to miss in Mauritius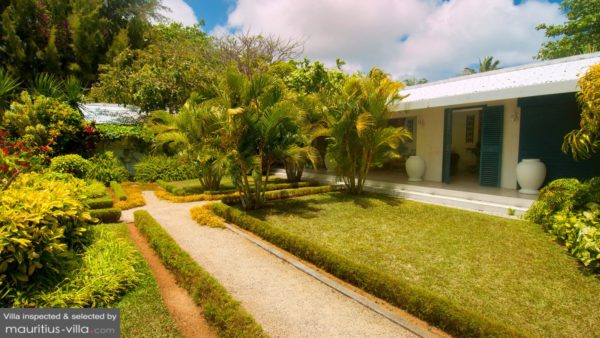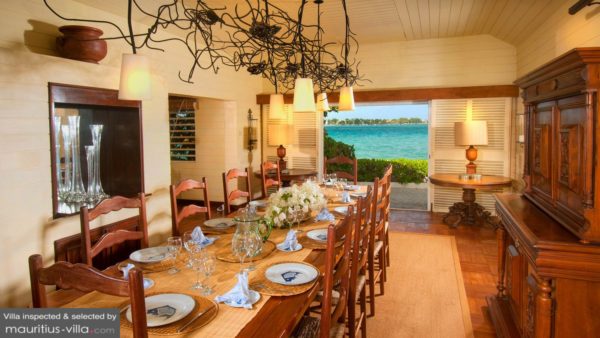 Brimming with luxury, Villa Belle Creole places you in Pointe aux Cannoniers, a quaint village that embodies the very best of Mauritian culture. With the ocean at your doorstep, this spacious home is nestled amidst gently swaying palm trees and lush tropical foliage. With four air-conditioned bedrooms, this villa offers a tropical-style interior, in keeping with the warm Mauritian architecture. There's a spacious inside living pavilion, sun loungers and, a fully-equipped kitchen and even barbecue facilities.
Because you will also receive the daily services of a housekeeper, you can focus fully on your vacation in Mauritius and get as much rest and tranquillity as possible during your stay.
Around Villa Belle Creole
Make the most of the warm tropical climate by snorkelling in the translucent waters in front of the villa, where you'll be able to enjoy abundant marine flora and fauna. You can also enjoy a relaxing walk to the village centre where you'll find plenty of restaurants specializing in local cuisine.
Key features
A very easy access to the silky white beach which stretches in front of the villa| Nestled in a tranquil area but still offers proximity to the village centre and its numerous dining venues | Housekeeping services so you can focus wholly on getting plenty of rest during your holiday.
Prices start at US$397(low season), US$ 456 (mid-high season), US$ 479 (high season), US$1,051 (peak season).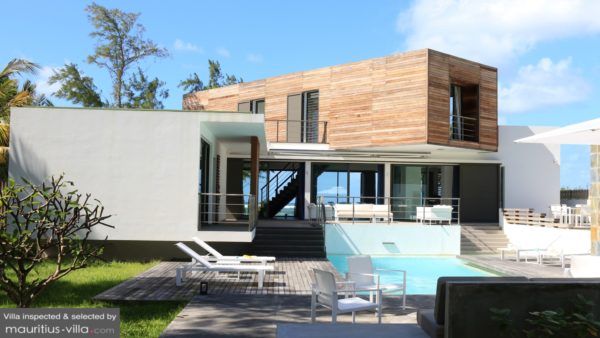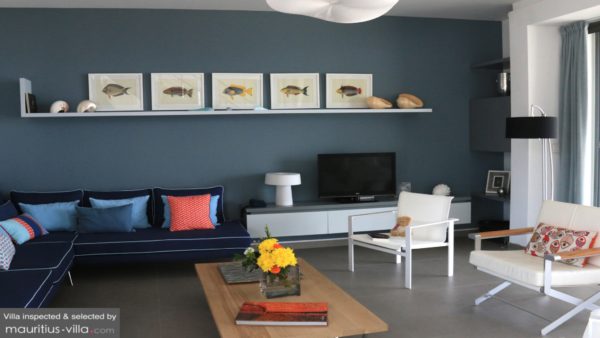 Perched alongside the scenic beach of Trou D'Eau Douce, Villa Oceane is perfect for those who want to submerge themselves in a typical Mauritian-style holiday, complete with thick tropical foliage and the ocean on your doorstep. With an eye-catching avant-garde layout, this villa boasts three bedrooms to comfortably sleep up to six guests. From the master bedroom, step out onto your private balcony and revel the magnificent sight of the sun sinking slowly beneath the horizon.
There's even a private swimming pool where you can practice your laps or simply relax on the pool beds as you make the most out of the warm weather. With sprawling living areas, Villa Oceane offers the ideal setting for a nice dinner on the patio overlooking the sea. And thanks to the housekeeping services, you don't have to lift a finger and can focus entirely on pampering yourself.
Around Oceane
Trou D'Eau Douce is known as being a fishermen village in Mauritius so you can very easily book an early-morning fishing expedition and watch the sunrise from the ocean as you work on your fishing skills. The village of Trou D'Eau Douce is also an excellent jumping point if you want to go explore the islet of Ile aux Cerfs which is known for its sunny beaches and numerous sea activities.
Key features
Located in one of the most beautiful villages in Mauritius, where you can bask in the sun all day long| You will receive the services of two dedicated staff to ensure that the property is in a pristine condition, leaving you free to focus on your holiday instead of the housework| Magnificent views of the bay from the upper-floor bedrooms.
Prices start at US$584 (low season), US$ 934 (high season), US$1,751 (peak season)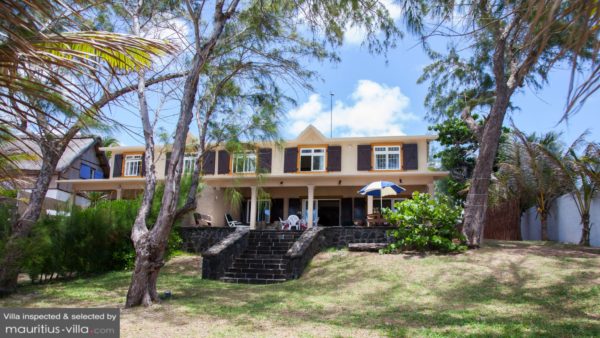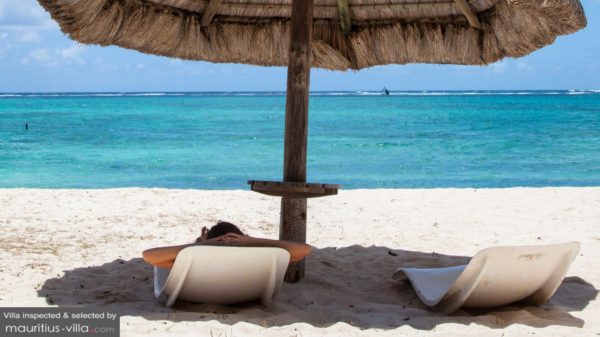 Offering the perfect retreat for a group getaway, Quatres Vents Villa has four bedrooms to sleep up to nine guests. To help you make the most of the beautiful island weather, this villa is equipped with two terraces that face the garden and the beautiful ocean. In the morning, enjoy your coffee on the patio after a leisurely pre-breakfast dip in your warm swimming pool. With the ocean literally at your doorstep, you can be sure that you won't have to battle the crowds in order to find the best spot on the beach.
Along with a maid, you will even receive the services of a cook who can prepare any meal of your liking. With bright, tropical-style interiors, there's no denying that Quatres Vents Villa is perfect for some bonding time with your family. There's even a children's room next to the master suite with wooden bunk beds, perfect for the kids!
Around Quatre Vents Villa
Ask your cook to pack up a picnic lunch for you and take a boat shuttle towards the islet of Ile aux Cerfs whose beauty is bound to take your breath away. Quatre Vents Villa also places you close to Blue Bay Marine Park, an extremely popular spot among tourists because of the rare marine wildlife that dots this region.
Key features
A short boat ride from the unparalleled beauty of Ile aux Cerfs where you can lounge in the sun all day or immerse yourself in numerous types of beach activities| Ocean-facing terraces, perfect for relaxing while drinking in the sights|A cook who will prepare your meals right at the villa.
Prices start at US$176 (low season), US$ 211 (high season), US$339 (peak season).
---
See our villas in Mauritius. Inspected and selected by Villa-Finder.com.